Restorative Skincare
Mini Facial
In a hurry? This holistic facial is customized for your needs. Great for when you need a quick cleansing and brightening; Our signature Marma massage (pressure point stimulation) completes the experience, for newly radiant skin. No masque or extractions are included in this facial.
30 min $60
Signature Facial
Reawaken and rejuvenate skin with a holistic facial customized for your skins specific needs. Naturally active ingredients are custom blended for intensive exfoliation and renewal; our signature Marmamassage (pressure point stimulation) completes the experience, for newly radiant skin.
50 min $90
---
Rejuvenating Facial
Great for all skin types to provide needed balancing and rejuvenation. Included in this facial is our Signature Facial with one deep exfoliation option custom matched to your skin's needs.
50 min $120
Men's Facial
Ease razor irritation, receive deep pore cleansing and toning to restore vitality, and maintain hydration while protecting and restoring skin. Shaving recommended 2-4 hrs prior.
50 min $90
---
Acne Facial
This consult and soothing treatment deep pore cleanses, reduces redness, breakouts and acne scars.
50 min $90
Restorative Back Treatment
Includes a scrub, steam, hot towels, extractions, masque, and body cream massaged into the back, neck and arms.
50 min $110
---
Power Anti-Aging Facial
This amazing treatment combines our customized Signature Facial with the addition of two types of exfoliation. Choose from Microdermabrasion, Ultrasonic, or Chemical Peel. Not sure which is best for you? Allow our highly skilled aesthetician make a recommendation appropriate for your skin.
50 min $140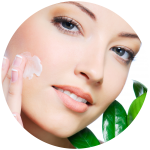 ---
Exfoliation Options
Microdermabrasion
A revolutionary exfoliation treatment that gently polishes the skin helping to rejuvenate, smooth, and improve imperfections. This procedure has been proven safe and effective for the treatment of fine lines and wrinkles, sun damaged skin, superficial age spots, acne scarring and other scarring.
Ultrasonic
The ultrasonic treatment uses a unique combination of sound waves that stimulate the production of collagen and drive topical treatments into the skin. The ablation process gently removes the dead skin cells and stimulates collagen production resulting in a reduction of fine lines and wrinkles. Immediate results are seen.
Glycolic Peel
Glycolic Peel /Lactic Acid Peel – Glycolic acid is a good all-around treatment for normal-oily skin types to exfoliate and rejuvenate the skin, as well as addressing the issues of acne, acne scarring, wrinkles and fine lines.
Lactic Peel
This treatment is ideal for dry or dehydrated skin, as well as aging and sun-damaged skin. Lactic Acid's unique ability to draw moisture toward the surface of the skin makes it ideal for individuals whose skin dries out easily. This treatment also effectively combats acne and hyper pigmentation, leaving a wonderfully smooth and clear complexion.
Pumpkin Peel
Pumpkin enzymes blended with alpha hydroxy acids exfoliate and calm the skin with over 200 different nutrients to keep the skin healthy and to help combat against damaging free radicals. This treatment uses all natural enzymes and fruit acids to revitalize and nourish the skin. The spice will tickle your senses while leaving your skin refreshed and vibrant. Recommended for all skin types, but especially for Rosacea skin types.
Salicylic Peel
An incredible treatment for oily/ acneic skin. Salicylic acid helps balance the flow of oils and exfoliates the skin, making extractions more easy. This treatment can be repeated every two weeks for optimal results.
Waxing And Hair Removal
Derma Planing removes the Vellus hair (peach fuzz) and at the same time you receive a light exfoliation. This treatment leaves your skin with a healthy glow. Great for those who cannot tolerate facial waxing.
$50 ($30 as an add on to skincare services)

Brows, Lip or Chin Wax $15 ea
Full Face $45
Brow Tweezing $20
Brow or Lash Tinting $15 ea
Underarms $20
Half Arm $30
Full Arm $50 and up
Half Leg $50 and up
Full Leg $80 and up
Chest $50 and up
Back $60 and up
Bikini $50
Brazilian $80
Brazilian Clean Up $60