Discover rare and organic teas from around the world!
We only offer tea that is free from added flavor — natural and artificial.
Our customers deserve only the best tea in its purest form.
Botanical Blends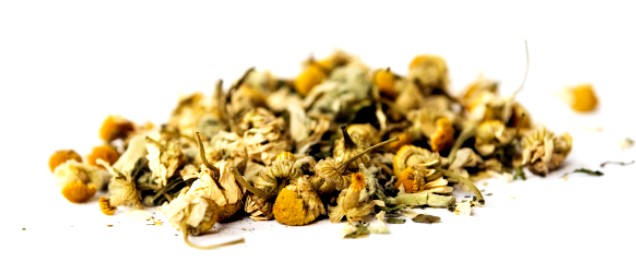 CALMING TEA
This soothing blend gives you a full-bodied flavor, promoting calm relaxation and helps you to unwind. Organic chamomile, organic peppermint, organic Indian green tea decaffeinated , organic scullcap herb, organic wood betony, organic catnip herb and stevia herb.   
IMMUNITEA 
A wonderful combination of healthful herbs and spices known to promote health and well-being. Organic holy basil, organic echinacea purpurea herb, organic lemon balm, organic olive leaf, organic elder flower, organic lemon peel, organic elder berries, organic goldenseal herb and organic ginger root.
BRAIN TONIC
Revitalize your brain power with this tea containing some of the more powerful memory enhancing herbs. Organic ginkgo, organic hibiscus flower, organic eleuthero root, organic gotu kola, organic parsley leaf, organic alfalfa leaf, organic bilberry leaf and organic ginger root.
HIBISCUS HEAVEN
Our best selling herbal tea – great hot or cold.  Organic hibiscus, organic rosehips, organic orange peel, organic lemongrass, organic lemon peel, antioxidant rich honey bush from South Africa and organic lemon oil.
White Tea
WHITE PEONY (China)
White Peony is the most common style of traditional white tea and consists of two tea leaves and a bud.  Prized for its smooth,  sweet flavor and slight woody, toasted aroma.
MANDARIN HEAVEN (China/US)
Smooth and refreshing floral organic white tea hand blended with organic lemon myrtle leaf, organic orange peel and organic marigold to create a fresh citrus taste balanced with a complex  flowery aroma.
LAVENDER WHITE (China/France)
Organic white tea blended with the highest grade of organic lavender (super grade.)  French lavender possess a very fragrant aroma and distinct flavors that become more subtle when used in tea.  An absolute luxury!
Green Tea
JASMINE (China)
The most tender green tea leaves and silvery down-covered buds with jasmine blossoms. A superb floral experience.
GUNPOWDER (China)
Traditional green tea leaves rolled into small pearls that unfurl before your eyes. Bursting with energy they resemble pellets of gunpowder. Slightly roasted, smoky and astringent in character, this is a classic Chinese green tea cup with a smooth, nutty flavor.
SENCHA (Japan)
Sencha is the quintessential organic tea from Japan. Special blending and firing techniques are used to produce this organic green tea, resulting in a rich vegetal flavor and aroma reminding of dark greens with moderate bitterness and a slight nutty quality.


DRAGONWELL (China)
Also known as Lung Ching, is considered the most popular tea in the world and the National Drink of China. Tea drinkers all over the world recognize the sweet aroma and the delicate flavors that this specific type of tea offers.
EARL GREY GREEN (China/US)
A new version of a favorite.  Organic green tea base scented with oil of  organic Bergamot, a citrus plant from Sicily.
MOROCCAN MINT (China/US)
An organic blend of mellow green teas, favored mints, and a hint of lemon grass combine in a crisp, aromatic, and brightly flavorful cup. Refreshing.
LOVER'S GREEN (China/US)
A sensual and soothing organic blend of organic green tea, abundant rose petals, marigold and antioxidant rich organic honey bush from South Africa.
DA QI CHA (China/US)
Organic Young Hyson green tea combined with  organic eleuthero root, organic schisandra berry, organic ginkgo leaf, organic gotu kola, organic licorice root and organic ginger root.  It supplies your body with necessary antioxidants, while providing an effective qi boost.
Oolong Tea
ORIENTAL BEAUTY (Taiwan)
Beautiful leaves of white, green, yellow, red and brown make up this top grade Formosa  oolong from Taiwan. Highly oxidized, yet  super smooth, the layered cup offers much delight. Summer fruits like peach and nectarine, with a soft sweetness of honey, dwell in these leaves.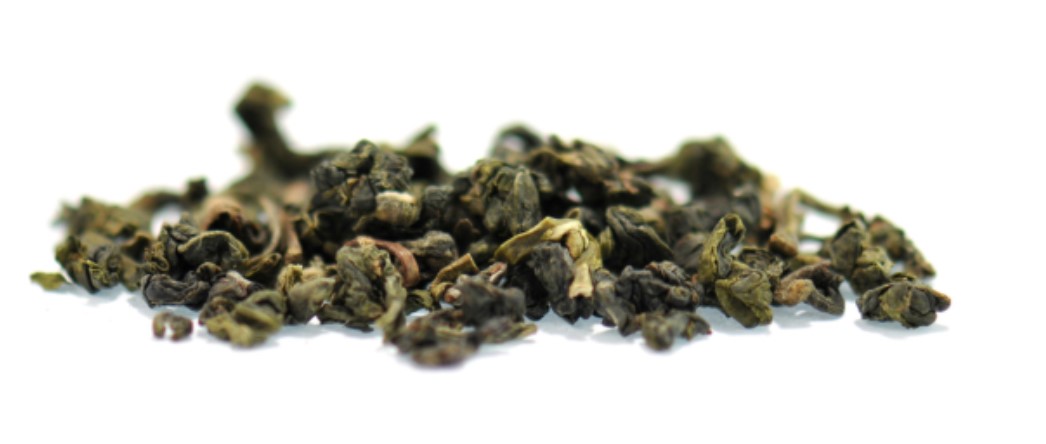 JADE OOLONG (Taiwan)
A rare and  lightly oxidized oolong tea from the Qingxin cultivar in the high mountainous region of Taiwan. These leaves create a smooth golden green infusion with an orchid aroma, brisk flavor, smooth body and fruity finish. 
HONEY BITTEN OOLONG (Taiwan)
Bitten oolong is amazing treat. The eroded edges of the leaves cause a chemical reaction within the leaf resulting in these unique flavors! It is a traditional method of crafting which involves roasting the bitten leaf to draw out more honey and fruit flavors.  The flavor starts floral—Jasmine, baby's breath—with an often overlooked tinge of pit fruit.  The aftertaste oozes honey, with a thick and syrupy mouthfeel to match! 
IRON GODDESS OF MERCY (China)
The most famous of oolong teas.  A light and golden amber infusion with sweet finish.  Complex taste and rich aroma reminiscent of baked grain and apricot.
MILK OOLONG (Vietnam)
Medium body and tastes of sweet cream, peaches. This Jin Xuan cultivar of Milk Oolong was created in 1981 by Taiwan's Tea Research and Experimentation Station under the experimental code name 2027.  It was popularized because of it's golden liquor, buttery mouth feel and overwhelming notes of sweet cream.  A rare treat!                                  
Black Tea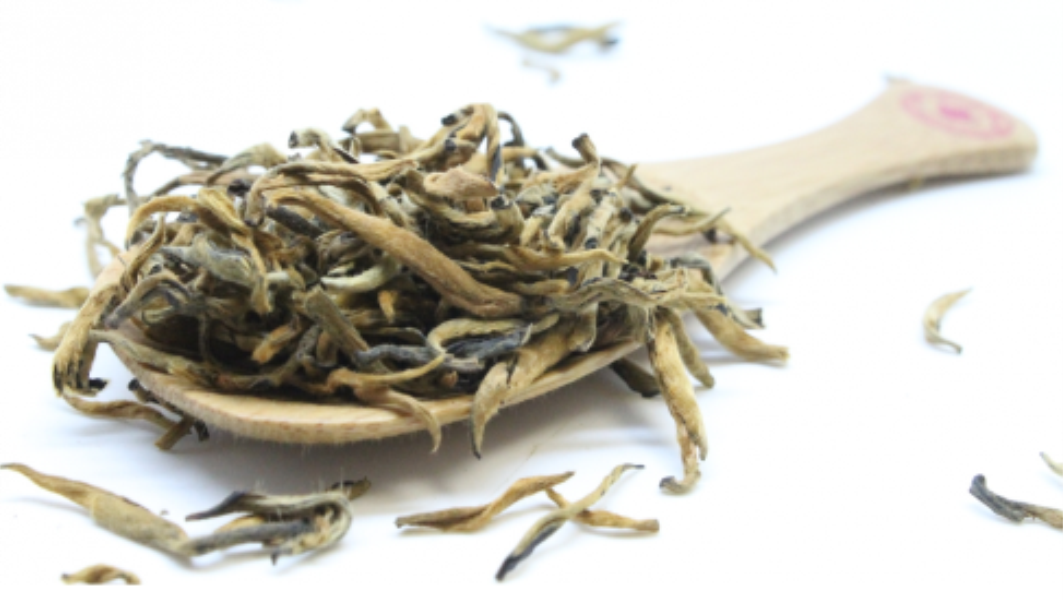 DARJEELING 2nd FLUSH (India)
This is a rare tea from the first organic and bio-dynamic estate of Makaibari/Jungpana in Darjeeling. The 2nd Flush meaning the second harvesting.  The second harvesting produces a more robust body with muscatel character and powerful aroma than the first harvesting.   Often considered the "Champagne of Teas."
GOLDEN YUNNAN (China)
A deeply flavored infusion with notes of peppery spice, chocolate, sweet raisin and malty finish. A hearty and rich organic black tea from this famous province.
HATHIKULI ASSAM (India)
Located next to the Kaziranga National Reserve.  This estate is known to produce fine organic teas. This blend contains golden tips making it a high quality tea with a rich, malty robust cup.
NILGIRI EXQUISITE (India)
A delicious full bodied tea from Southwest India.  Earthy, aromatic and slightly astringent.  Beautiful iced or hot.                      
Pu Erh Tea
PU ERH MAIDEN (China)
This organic loose leaf pu-erh  is fermented and has a deep reddish-brown liquor that is earthy and nutty-sweet with hints of espresso and acorn. This is a famous digestive tea, taken after heavy meals or to kick start the digestion.       
BUDDHA BELLY PU ERH (China/US)
Our organic Pu Erh Maiden is skillfully blended with organic tumeric, ginger root and peppermint to reduce inflammation and improve digestion.  A wonderful and stong black tea. Delicious iced or hot. 
CHRYSANTHEMUM TUO CHA (China)
This is an unfermented yet aged organic pu erh blended with organic chrysanthemum and formed into a birds nest shape for easy transport.
Top Shelf Tea
These teas are the best of the best.  Especially rare and an amazing delicacy.  Raise your level of tea sophistication and experience these unique teas.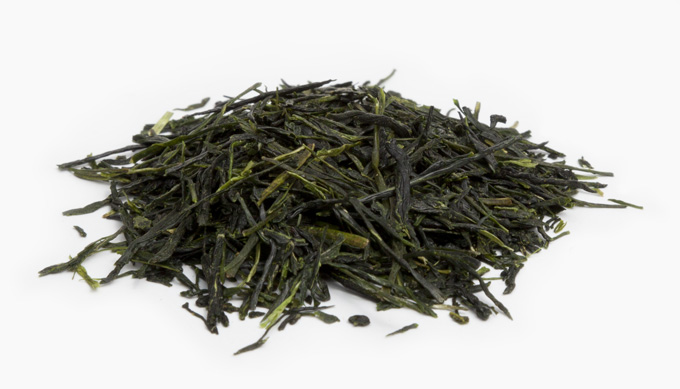 GYOKURO IMPERIAL (Japan)
Meaning "Precious Dew", the splendid pampered child of organic green tea.  Exquisite aroma and taste.  Our organic    Gyokuro (pronounced gyo-KUR-o)   represents the     pinnacle of organic Japanese green tea. It is shaded prior to harvesting, which stresses the tea plant, resulting in a higher chlorophyll  content. In the cup, this creates a fuller body and bolder vegetal quality.
BAI HAO SILVER NEEDLE WHITE (China)
Our organic Bai Hao is among the most revered of organic Chinese tea from China's Fujian province. This tea consists of only the most delicate downy buds from the tea plant's newest growth. The preparation of this organic white tea is governed by strict requirements to ensure a truly premium product. This dedication to perfection is evident in the cup. The pale yellow infusion has a rich, nectar-like body. It yields a light, honey-sweet fragrance with a delicate sweetness and smooth, clean finish. This tea is absolutely devoid of astringency.
CLOUD & MIST GREEN (China)
A rare and outstanding organic green tea from the cloud and mist zone of China. The oldest styles of tea from the Fujian Province. The aroma is slightly floral with an underlying note of roasted macadamia. In water, those strands unwind and turn a creamy green, revealing tender leaves and buds. The infused tea is surprisingly sweet and bright, with a hint of butter and grass.
SPARROW TONGUE YELLOW (China)
This rare and limited edition elegant organic tea is made of needle-like dark and light leaves that steep a smooth, delicate cup with no astringency. Yellow tea has a lighter flavor, yet not quite as light as white tea, and not as  vegetal or grassy as many green teas. The aroma is    described as flowery, fresh and mild.
Specialty Tea Drinks
MOJTEATO  (24oz)                                                                                                                                    $4.85
A cool breeze of the islands. The intensity of Japanese matcha powder is paired with the effervescence of lime, mint, agave or stevia and sparkling water.
MATCHA TEA SHOT  (4 oz)                                                                                                                   $2.85
Made from actual powdered green tea leaves, this ancient technique is unmatchable when you are in need of a serious dose of antioxidants and smooth energy.
POWERHOUSE MATCHA LATTE (Iced 24 oz — Hot 12 oz)                                                    $4.85
This is a super food for endurance. A power packed mix of Greens Today Powerhouse Protein Formula with matcha, chai spices, agave or stevia and almond milk.  Great as a meal in itself or an energy boost before or after yoga.  Each drink is packed with antioxidants,    protein, calcium, greens, fiber and much more!
YOGI TEA (Our Exclusive Homemade Chai) (Iced 24 oz — Hot 12 oz)                              $3.85
A signature organic blend of fresh ginger, black peppercorn,  cardamom, cloves, and cinnamon.  After a long steep, these ingredients are blended with an aged Pu Erh Tea, almond milk and agave or stevia.  A spicy and soothing treat not to be missed.
TEANA COLADA  (24 oz)                                                                                                                          $4.85
A tropical creamy blend of pineapple, coconut milk, white tea, agave, with hints of ginger and Mandarin citrus.
KOMBUCHA ON TAP (12 oz)                                                                                                            $4/$7
Live – Raw – GF – Non GMO – Organic. Kombucha is a  fermented drink made from tea, sugar and a "SCOBY"  (symbiotic colony of bacteria and yeast.) The culture uses up the tea and sugar in the fermentation, producing probiotics, beneficial acids, enzymes, antioxidants, amino acids and polyphenols. Great For: Detoxification, Digestion, Energy, Immune Health, Joint Care, Cancer Prevention, and Weight Loss.
Coffee & Espresso
COFFEE (POUR OVER)                                                                                                                                                       $2.85
A great cup of coffee is worth waiting 3 minutes for. Full bodied Dark French Roast prepared when ordered. 10 oz.
BUTTERED COFFEE
$4.85
Not a breakfast person? This recipe with satisfy your brain with the nutrients it needs to make it to lunch or later! Our delicious fresh brewed coffee blended with Ghee (Clarified Butter) and Coconut Oil (MCT). 12 oz.
[/accordion_item]
WHY TEA FOR BETTER HEALTH?
More than a decade's worth of research about green tea's health benefits, particularly its potential to fight cancer and heart disease, has been more than intriguing, as have studies about green tea's role in lowering cholesterol, burning fat, preventing diabetes and stroke, and staving off dementia.*
Get Younger by the Cup
Drinking oolong tea takes 2 years off the internal organs' age. Using various indicators, such as cholesterol level, blood sugar level and liver activity, the researchers were able to calculate the age of the internal organs.
Block Fat Absorption
Oolong tea leaves contain saponins, waxy substances that may block the absorption of dietary fat. It's concluded that oolong tea can increase lipid excretion into feces when taken together with high fat food.
Reduce Fat Storage
Green tea prevents fat from being stored, can increase protein levels, and promote thermogenesis by triggering beta- adrenoceptor. Green tea can directly inhibit gastric and pancreatic lipases. These enzymes are the primary cause of fat storage and by delaying their actions, green tea slows this storage.
*MEDICAL DISCLAIMER: The information on this website is not intended to provide medical diagnosis or prognosis and this information is merely information – not advice. You must not rely on the information on our website as an alternative to medical advice from your doctor or other professional healthcare provider.  You should seek immediate medical attention if you think you may be suffering from any medical condition.